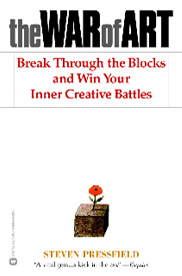 That's the title atop page 68 in The War of Art, a volume I recently listened to on CD and also own in paperback. The author, Steven Pressfield, likens being an artist to being in the Marine Corps.
"The Marine Corps teaches you how to be miserable.
This is invaluable for an artist. [My note – You can substitute business owner for artist here.]
…He will be dining for the duration of a diet of isolation, rejection, self-doubt, despair, ridicule, contempt, and humiliation…
Because this is war, baby. And war is hell."
There's something perversely heart-warming about how Pressfield states this. I want to say, "Yeah! I'm fighting for my life every day!"
If you're reading this, and you're and artist/entrepreneur, you will thoroughly enjoy this book. As promised in the subtitle: Break Through the Blocks and Win Your Inner Creative Battles.
I don't know an entrepreneur out there who doesn't face the challenges of, what the author calls, resistances and coaches call gremlins. This book arms you for that battle and makes you proud to show your scars.